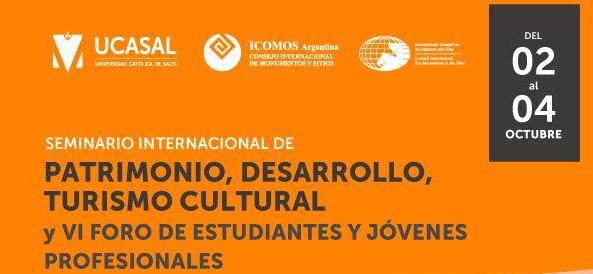 The Argentine Committee of ICOMOS and the Universidad Católica de Salta invite to all to participate in the Seminario Internacional de Patrimonio, Desarrollo y Turismo Culturale of the VI Foro de Estudiantes y Jóvenes Profesionales, which will take place in the city of Salta between the days October 2 and 4, 2019. The congress is promoted in celebration of the 20 years of signing of the International Charter on Cultural Tourism of ICOMOS.
Since the elaboration of the aforementioned heritage charter, and considering the previous and subsequent recommendations of the International Charter on Cultural Tourism of ICOMOS, we realize the need for reflection on the updating of the text, as well as on the Social and economic context of the end of the last century and its comparison with the current period.
In view of this, the congress proposed by ICOMOS Argentina and Universidad Católica de Saltas about heritage, development and cultural tourism aims to share a space for reflection and interchange between specialists, researchers, professors, cultural managers, professionals, and members of the community in general, in order to share knowledge and experiences about heritage and cultural tourism from a contemporary perspective that stimulates human, social, creative and sustainable aim.
This same occasion will take place the SIXTH forum of Estudiantes y Profesionales, in which it proposes to emerging students and young people to participate in this edition of the aforementioned forum in Salta, in order to promote their vocational training and exchange with Specialists, to the extent that it is also consolidated this young space of ICOMOS Argentina.
The modality of participation is through the submission of abstracts, whose maximum deadline for submission is until July 15th, 2019. The thematic axes, as well as other information related to important dates and registrations can be consulted by clicking on this link.